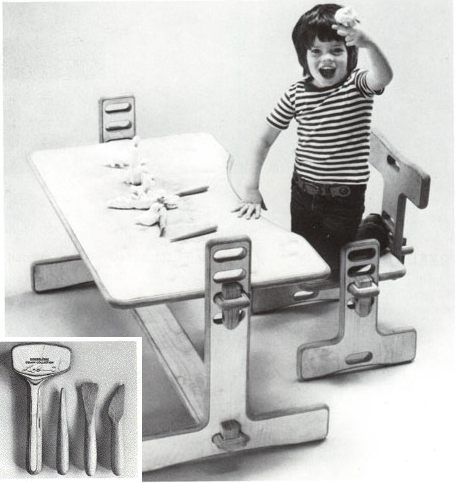 I am familiar with the work of Pablo Neruda. The work of Luigi Colani, not so much. I did think I'd ferreted out most all of the kid-related design from the online archives of the incomparable German design magazine, Form, though.
Then on a hunch, I searched for Colani, and turned up this nice "Actionspace for childish Fantasy," aka, an activity table & chair, from 1977. It looks to be made from laminated ply, rounded on all the edges, and joined together with comfortably blocky, adjustable mortise & tenons.
From what I can gather, the wooden mallet and dagger set was included. Which this young lad used to lop off the head of what I assume was a small rodent. He's proud of his accomplishment, and rightly so. Sehr gut, Junge.
Luigi Colani play table and stool - Form, ausg. 80, 1977 [form.de]
Here it is: Tobifant desk, made of laminated birch for Kinderlübke, didn't sell at auction in 2004 for EUR2000-2500 [internationalauctioneers.com]