Eric Pfeiffer, of the Offi and Modernseed Pfeiffers, and one of the contemporary masters of molded ply, is once again trying to mold his way into our hearts with his new furniture venture, 10 Grain, which had a sneak preview in September alongside the ABC Kids Expo in Las Vegas.
Among the highlights: the Play Pad, which I originally thought was a table that turns on its side to convert into a doll house; but uh-uh, it goes that way. Then there's the URoll [alas, without, as yet, an accompanying URock], a scooterish ride-on thing that the company swears can hold an adult. It's unusual shape and little caster wheels remind me of the Svan Scooter.
And then there's the most ominous piece of the bunch: the Robo Stool. I tell you, THEY'RE EVERYWHERE.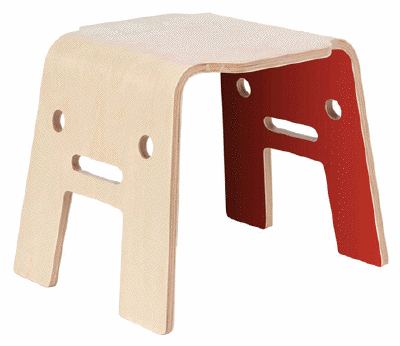 10 Grain offers the furniture covered with Paul Frank monkeys, or they'll obliterate the monkeys at absolutely no extra charge. It must be a sign that the company just loves its customers, because frankly [heh], I'd pay double to get rid of the monkeys.
10 Grain furniture should be turning up just in time for New Year's, I imagine. [10grain.com]