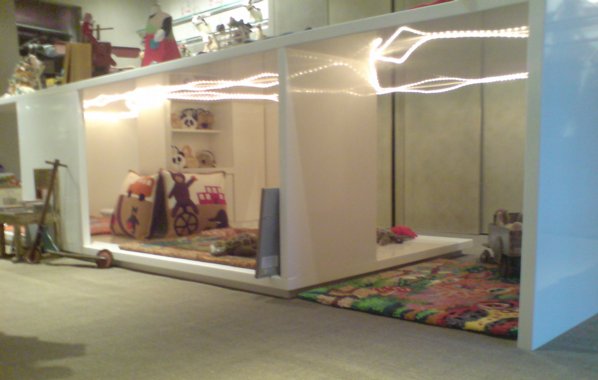 It's like the Farnsworth House without the floods; the Schindler Kings Rd House without the pegboard; the Case Study House No. 21 without the corrugated metal; the Barcelona Pavilion without the chairs [though I guess they're sold separately now.] It's a Judd Sculpture you won't freak out over if the kid plays in it. This modernist playhouse at Takashima-ya in NYC was so spectacular, I couldn't even process it.
But not just because it wouldn't cost me $50,000, but $8,050,000, since I'd have to buy an $8 million loft so I'd have a place to put it. It's because I didn't even realize it was a playhouse until the saleswoman pointed it out to me. I thought it was an insanely overcrafted white lacquer store fixture.
To a kid, though, it's instantly obvious, and they apparently wander in quite naturally and start playing in the little built-in kitchen. It's perfectly kid-sized; from the carport to the bedroom, it's twenty feet of sheer awesome. [With some LED Christmas lights stuck onto the roof; those will have to go.]
I have no idea who built it, but I know who should build an outdoor version in the backyard out of some sweet marine-grade plywood. Of course to do that, I'd have to get a house with a backyard...
update: It was designed by David Mann of MR Architecture + Decor, who is also responsible for the store itself. The closest related project on his firm's site is a Miesian getaway atop a mountain in Palm Springs. Here's my only other picture, a blurry phonecam shot of the inside.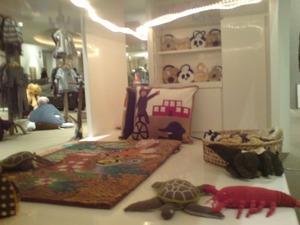 Previously: Kid-sized PJ/Mies Playhouse by Rirkrit Tiravanija
Richard Meier refugee builds sick Hamptons playhouse