OK, surfing through the Hiromatsu Furniture Co. catalogue turns up some rather nice-looking pieces. Check out this sweet carved pine & wrought iron settee, for example. And also: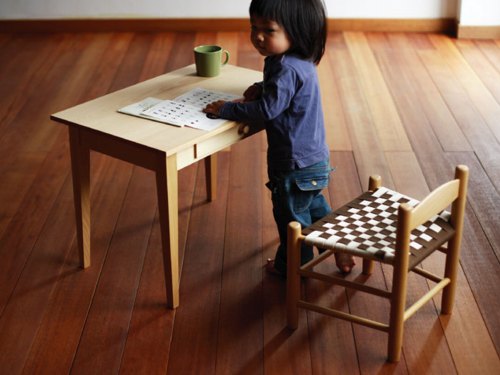 There's something appealingly irrational, though, about getting Shaker furniture made in Japan. This kid's desk and chair are both natural oil-finished beech. The chair takes 1-2 months, thanks to the custom webbing color combos.
Kid's Shaker-style desk (33,360 yen) and Kid's low-back Shaker-style chair (19,960) , plus shipping, multiplied by the probability of shipping them internationally = free! [hiromatsu.org]
Then there's the e-chair, a high chair in the Stokke chair-for-life mold. The e-chair gets its name from its profile, and it comes in various finishes of maple and [good morning, Malaysia!] teak. [Actually, I have no idea where the teak comes from.]
When you're not using one of the four seat positions and three footrest positions, the e-chair flips over and can be used as a ride-on rocking horse. Though for 30,450 yen for the maple, and a whopping 51,450 yen for the teak, the kid better rock only on a carefully padded surface. No scuffing.
e-chair high chair, 33,450 or 51,450 yen [hiromatsu.org]