It's funny what three years of parenting will do to your attitudes on drugging children. Last week, I was plotting to promote an underground band of renegade dads, calculating their own doses of contraband decongestants, but in August 2004, when the kid was six months old, I was apparently shocked that people were giving their kids ibuprofen.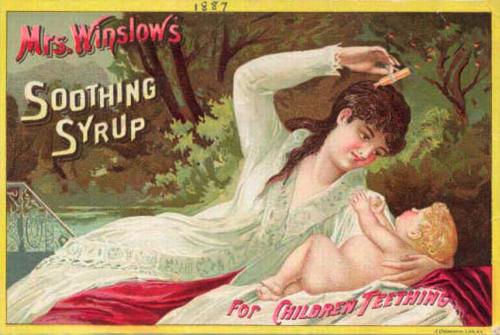 That was when I found out about the widespread use of opium as a childcare aid in Victorian-era England. Parents would dope up their kids while they were away at work, then they'd dope'em up again so the parents could sleep. Frazzled working parents bought "Quietness" at the local druggist, and used a whole range of opium-based elixirs and syrups to keep their kids "slept."
I wanted to know more about this chapter in the grand history of infant doping, so I just bought a PDF copy of Elia Vallone Chepaitis' 1985 dissertation at the University of Connecticut, The Opium of the Children: Domestic Opium and Infant Drugging in Early Victorian England. If there are even five more paragraphs in it like this one [p. 2], it will be the best $37 I've ever, ever spent:
Child doping was most scandalous in the 1830's and 1840's. Early Victorian attitudes varied, but critics generally criticized drugging but did not recommend public control. The sangfroid of investigators dealing with the maiming and killing of children is startling, especailly in contrast with twentieth century antagonism toward drug abuse. However, early Victorians frequently noted their limitations --inmedical theory, in law enforcement, and in altering custom and the social order: they were especially reluctant to interfere with child rearing and family matters. Reformers predicted that opium abuse would decrease when more information was gathered and disseminated. ALthough their inaction may seem callous, even grisly, they were correct...
Oh wait, here's one, on page 5:
It is remarkable that child drugging has not been studied thoroughly. Swaddling is the only custom which can be compared historically with opium in its interference with infant development. Far more children have been affected by swaddling than by opium, since swaddling appears in many cultures since antiquity, but opium feeding was far more damaging to the infants affected.

Like swaddling, the practice of feeding opiates to children was not clandestine and was considered inhumane by contemporaries. In 1845, for example, Engels criticized opium feeding in The Condition of the Working Class in England; Marx mentioned it in Capital. [emphasis added for fun]
Uh-oh, I think it's Opium Week here at Daddy Types, people.
Chepaitis, E.V., THE OPIUM OF THE CHILDREN: DOMESTIC OPIUM AND INFANT DRUGGING IN EARLY VICTORIAN ENGLAND, 1985 [digitalcommons.uconn.edu]
Buy a PDF copy of THE OPIUM OF THE CHILDREN, $37 (other options available, too) [proquest.umi.com]
Previously: Opium - It's not just for teething any more