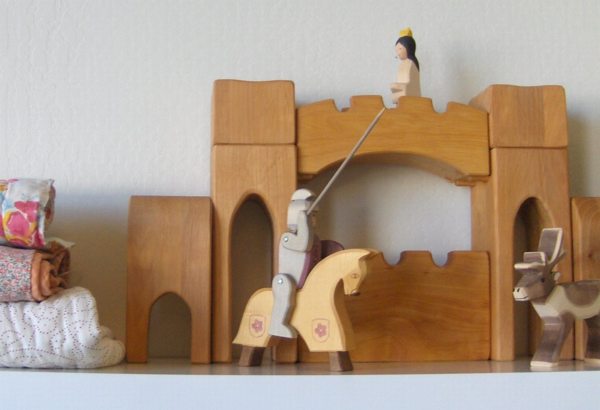 Ashley is a Reggio Emilia atelierista by day, and a felt artist by night. She also has a blog with no links. Obviously, she lives in San Francisco.
When she was in Petaluma, peddling her wares, she happened to snap the photo [severely cropped above] at Maude, a rather awesome-looking children's store at 133 Kentucky St. The full name of the store is Maude Rare Finds For Children. As befits a precious and rare children's store in Petaluma, they appear to have no web presence whatsoever. the absolute slightest of web presences possible. [They are nicely represented on flickr, however.]
I will be calling Maude at a suitable hour to find out where that incredible hardwood castle block set with the natural, lead-free dyes came from. Also the natural grain reindeer.
update: The figures and the castle both are by Ostheimer, described, accurately enough, by The Wooden Wagon as "quite simply, the finest wooden figures available, much imitated but never equaled." [no kidding on the "much imitated" part, wow.] The fine folks at Maude also said they are virtually indestructible, and they just get better with age.
In the mean time, at least one of you should throw the kid in the bike trailer and start pedalling up there to buy it.
This is the most relentlessly 2007-ish post I've ever written.
ashley rose helvey [via stork bites man]
Maude Rare Finds For Children basic info [maudeonline.com]