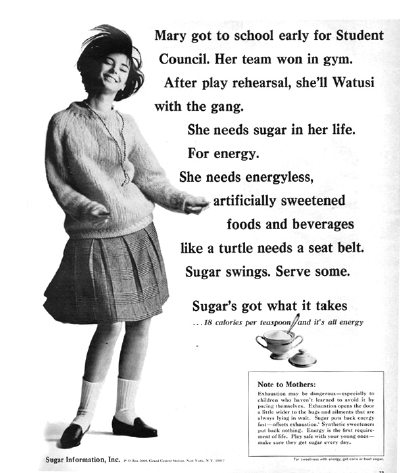 OK, so my flamethrowing blurb about vaccination didn't exactly have us all singing Kumbaya today. But I think we can all agree with the thoroughly unbiased research organization, Sugar Information, Inc., when they point out that Suzy here "needs energyless, artificially sweetened foods and beverages like a turtle needs a seat belt."
This 1965 ad's zipping around the web like a toddler hopped up on Pixie Stix, but I haven't seen anyone capture the valuable yet hard-to-read "Note to Mothers [sic]" at the bottom, so here it is:
Exhaustion may be dangerous--especially to children who haven't learned to avoid it by pacing themselves. Exhaustion opens the door a little wider to the bugs and ailments that are always lying in wait. Sugar puts back energy fast--offsets exhaustion. Synthetic sweeteners put back nothing. Energy is the first requirement of life. Play safe with your young ones--make sure they get sugar every day.
So let's forget all this vaccine talk, and sugar our kids' to health together!
We Need Sugar - 1965 [vintage ads via bb]