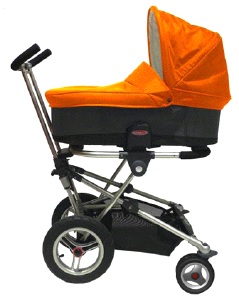 Has anyone seen Micralite Toro strollers in stores yet? DT reader Eyelet posted earlier today about trying to try one out in person [in NYC].
I know that Euro-Baby, the US distributor for Micralite flagged the first shipments for Sparkability [which is why we had that mailing list drawing last month, to hype the launch].
Schneider's, the old-school baby store on 25th street, has the Toro listed online, but I don't know if they're in the store itself. I'd call to find out, but they kind of scare me. Still. [It's where we bought our crib, btw, great deal, great crib, but he kind of scared me.]
Anyway, the Euro-Baby folks confirmed, too, that their Maxi-Cosi adapters will fit a Mico. [Which means a Mico will fit on any stroller's Maxi-Cosi adapters? Is that what that means?] Micralite also has Graco adapters for the US market.