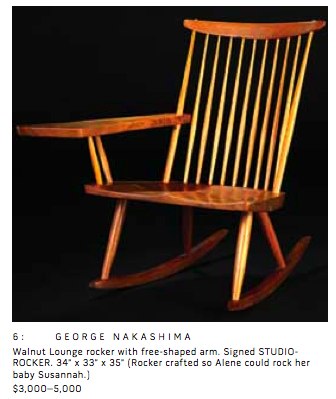 George Nakashima made this free-edge arm walnut rocking chair for his niece, Alene. Obviously, it rocks. I wonder if you could rout out a little hole in the arm to hold the bottle...
KIDDING! KIDDING! I KID BECAUSE I LOVE.
Sollo Rago, of somewhere in New Jersey, is auctioning it off Oct. 27. They have a conservative estimate of $3-5,000 for it. It should show up on eBay's Live Auction section in time, but meanwhile, the pdf's for the giant sale are available for download.
Last December, a similar, but non-family Nakashima rocker sold for $8,100 at Wright20, which is a $6,750 bid +20% premium. The estimate was $5-7k. The picture there is much nicer.
Lot 6: George Nakashima Walnut Lounge Rocker, Sollo Rago Modern Auction - Saturday/Sunday, October 27/28, 2007 [ragoarts.com, image via the pdf catalogue]
Dec 2006 Design Series lot 352: George Nakashima, Rocker with Free-Edge Arm, c. 1961 sold for $8,100 [wright20.com]