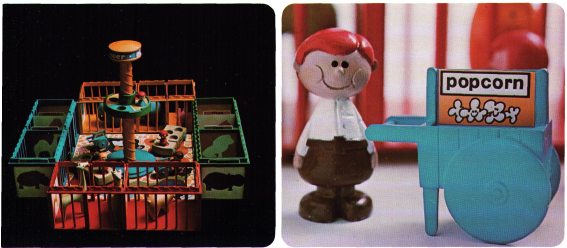 Still working to get the scans of this 1972 Samsonite Toys catalogue finished. There were sure a lot of roller skate-type products in that first, expanded collection.
There was also the People Places series, their entry into the preschool figure market, which was, if memory serves, dominated by Fisher-Price. [Did you hear that "moo" sound from opening the barn door, too? Or was it just me?] The Samsonite Zoo Zoo consisted of four double cages, an observation tower, some animals and spectators--and a popcorn cart.
A cheerier type would say the cages look a bit like the old-time circus train, or the railroad cars in The Little Engine That Could.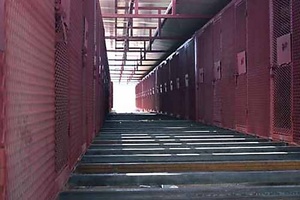 But considering how stackable they are--and how inky black and watery the abyss is they're floating in--I can't help seeing them as shipping containers. Shipping containers with bars. As you may know, when Halliburton's subsidiary KBR was contracted to build Camp Delta, the [first] more permanent prison at Camp X-Ray in Guantanamo Bay, they used shipping containers [above] for the cells. The observation tower works just fine as the oculus of the panopticon; just get rid of the animals and any shred of human rights, and you're done! Keep the popcorn cart for visiting journalists and congress members.
Clearly, my week's been a little rough. How's yours? A couple more pics after the jump.