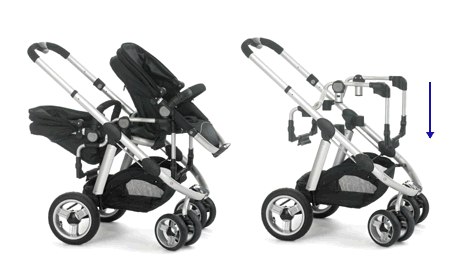 DT reader Colleen asked about new double stroller coming soon from iCandy, the Pear, almost three days ago; I've had the iCandy site open in my browser since then, and I still haven't seen the animation of all the configuration possibilities repeat itself. How is that possible?
The Pear is essentially the original iCandy Apple with a double conversion kit, including larger double wheels in front to support the added weight of twins or older/younger siblings. The Pear can be configured as an Apple-style, single-seat stroller [rear- or forward-facing]. But when you add the Breuer Chair-shaped element to the frame, it transforms into a double: a double capable of holding seats, carrycots, and carseats [Maxi-Cosi only at the moment] in almost any combination or configuration.
A few of the twin options remind me of the French BebeConfort twin strollers and car seat carriers, only compacted into a single-stroller footprint. A few of them also remind me of flying coach in the middle seat on a crap airline with no kneeroom.
If anyone's actually seen--or driven--a Pear with actual kids in it, I'd love to hear about it. Though with the website still promising "autumn delivery," I suspect there aren't that many on the road yet.
Rather brilliantly, the Pear conversion kit--the wheels and the Breuer bracket--are sold separately for £249. The full Pear set up is £479 with VAT [carrycots are extra]. The USD/GBP exchange rate never looked so grim, did it?
iCandy Pear double stroller/travel system [icandyuk.com via dt reader colleen]
Previously: How sweet is the iCandy Apple stroller?