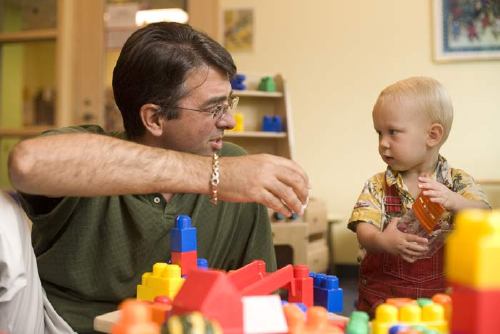 "Lead researcher Dr. Dimitri Christakis works with study blocks. Photo courtesy of Seattle Children's Hospital Research Institute"
In a recently published study commissioned by a Canadian block company [above foreground], Dr. Dimitri Christakis [above, left] and his colleagues at Seattle Children's Hospital Research Institute found that toddlers who played with blocks performed an average of 15% better on language assessment than those who didn't.
Not coincidentally, I think, Christakis is also the researcher behind the recent "Baby Einstein numbs your kids brain" [sic] study that got Disney chairman Bob Iger so hot and bothered. Keep that--and Baby Einstein's amorphous, non-research-grounded claims--in mind when you read what Christakis told Seattle P-I reporter [and dadblogger!] Paul Nyhan:
"Many toys make claims they are actually educational for kids...The interesting thing is that things like blocks never made such claims."
Which probably explains why a blockmaker might be interested in commissioning such research.
The study consisted of a survey of 175 toddlers, half of whom received a gift of blocks at the beginning of the study, and half who received it after it was done. Parents kept 24-hr activity journals, then responded to follow-up phone interview/surveys several months later. Journals of kids who received the blocks were 4x as likely to mention block-playing [59% vs. 13%]. From the hospital press release comes speculation that the blocks are proxies for parent-kid interactive play:
The research speculates that the distribution of toy blocks resulted in more block-play and this block playtime may be replacing other time spent that does not encourage language development. Television time may have also been replaced by block-play.
It would appear the ball is in the baby DVD makers' court.
Old-school Blocks Prove Best for Brains [seattlepi.nwsource.com, via paul at working dad and a whole slew of other people, thanks!]
Playing with Blocks May Improve Language Development in Toddlers, New Study Finds [seattlechildrens.org, image, too.]
Previously: TV endumbening our nation's toddlers, maybe sorta; TV causes ADHD, or something, maybe; Baby Einstein's got a posse, too