I guess the owner of the Mexican restaurant down the street went to a big restaurant expo recently, because the other night, the kid got a little coloring placemat and a pack of triangular crayons called Crayangles.
Frankly, we just don't go to that many crayon restaurants; the kid gets to use the sushi pencil, but otherwise, I'm not much of a fan. But triangular crayons that don't roll off the table? I'm all over that.
Classy Kid, the kid kit manufacturer, doesn't seem to be in the consumer crayon business, though, just the "keep those crayons off my restaurant floor" business. So there may not even be triangular crayons in more than four colors.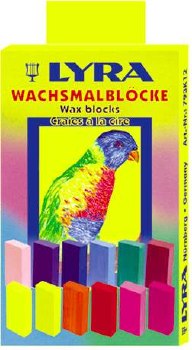 But so what? Square beeswax crayons from countries beyond the reach of the Crayola hegemony are doing just fine, thanks. Kiosk waxes [heh] profound on the six-pack of Porvoo Beeswax Crayons, the national crayon of Finland. Meanwhile, a 12-pack [in 11 colors? huh?] of Lyra square beeswax crayons from Germany seem just as quirky and a better value.
Classy Kid CrayAngles triangular crayons, bulk and custom orders available [classy-kid.com]
Porvoo Beeswax Crayons, $10 [kioskkiosk.com]
Lyra Wax Giants Beeswax Square Crayons, $15 [naturalplay.com]