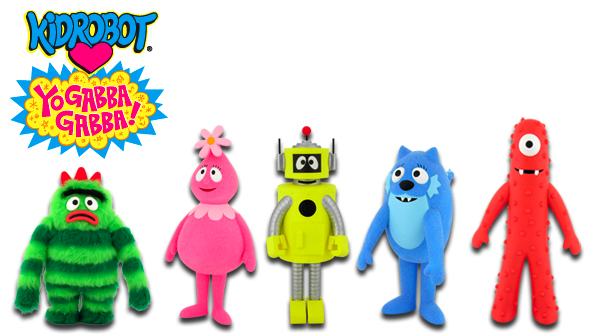 Yo Gabba Gabba! definitely wants to be invited to the Christmas party in your wallet.
Kid Robot, the vinyl toy subsidiary of YGG! production company WildBrain just announced to retailers that Yo Gabba Gabba vinyl and plush dolls will be ready for delivery November 21. [And in the half hour I was gone picking up the kid, several of those retailers turned around and announced it to DT.]
On the bright side, the gruppy company with a butt-smoking mascot is finally making vinyl dolls that are appropriate for little kids. On the dark side--assuming for a second there's only one--that Viacom show your kid's watching is a 22-minute toy commercial. Starring toys. Toys who snuggle up in YGG! character blankets. And kids who dance in YGG! character outfits.
Which reminds me, Kidrobot Wholesale reports there's a limited supply of YGG! apparel available this Holiday season, "however, Spring will burst with additional delights!"
Yo Gabba Gabba! the first few months are free, the next ones are $25/head [yogabbagabba.com]
Previously: Liveblogging the Yo Gabba Gabba! premiere on Noggin
Is YGG! the end of the increasingly murky indie-vs-mainstream parenting paradox?
Frodo has a posse--and free printable iron-ons