"Why Some Expectant Moms Are Worried About Tattoos"? Uh, how about because the Wall Street Journal keeps a non-issue alive by joining a five-year-long daisy chain of non-stories in pregnancy magazines and message boards about the non-existent incompatibility between epidurals and lower back tattoos?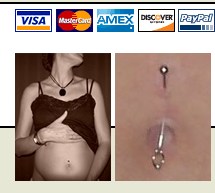 If you want something to worry about, how about that lengthening navel piercing, hmm? Oh wait, but now there are Pregnancy Piercings, extended piercing retainers that you can decorate with little colored barbell ends or Blue Boy/Pink Girl/"Not Finding Out!" dangles.
They also sell nipple barbells ["DO NOT USE WHILE NURSING"] and toddler leashes ["An absolute MUST for Vacations or Mall outings."].
Which begs the question: are you hardcore enough to attach the leash to the navel ring? Hmm?
Pregnancy Piercings, $16-30, depending on the dangle [pregnancypiercings.com via dt reader naomi]