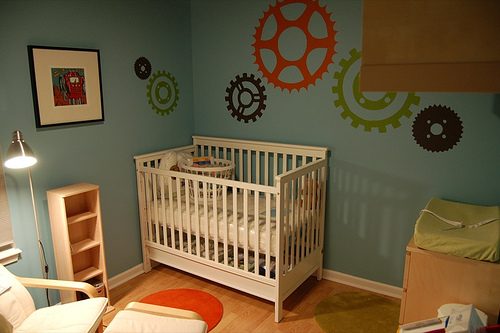 Artist/illustrator Patrick Lau started with a painting of a robot for his kid's nursery, which began, as his wife Maya put it, "to slightly have a theme." He added giant gears to the walls, and there's a shelf full of vintage robot toys safely out of reach.
Here's Maya's photoset on flickr, which I came across via the generally excellent "Go to your room!" pool of kid's room design photos. The pool shows that Nauseatingly Pink is still a strong nursery trend. Also, way too many people say "hubby". You have been warned.
Meanwhile, one "hubby" is taking it to the next level. David Hanson's 18-inch anime-tronic robot is named Zeno, just like his 18-mo son. Watch your back, Meat Zeno.
"Go to your room!" Kids Rooms at home pool [flickr]
Zeno Robot Boy May One Day Replace Inventor's Son [gizmodo via dt reader ponch]