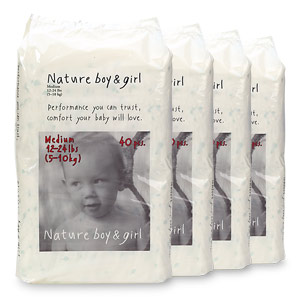 DT reader Tania was stoked to find some Nature Babycare diapers from Sweden at her local Target recently. Why? Because they're "100% Biodegradable!" Finally!
Nature Baby Care claims their disposable diapers are biodegradable as well as their wipes and entire line of products - even the packaging.
I bought a box of #5 diapers - Lovebug's size. Their prices and sizing are the same as the big brands - I say the same because this company is in Sweden and started by Marlene Sandberg, a Swedish lawyer and mother of two boys.
So far I've used about half a dozen, and they're great.
About a year ago I tried the flushable diapers and after being in denial for the two week run I flushed them for good. Sorry Mother Earth.
But now I can ease my guilt because Nature Baby Care's Nappys are fantastic!
I'm glad they work, and I guess it's good to see an independent, parent-run company make good in an industry dominated by a couple of international giants. But after doing some research, I still have to call BS on the biodegradable thing, and especially the way Nature Babycare presents itself as THE "environmentally friendly nappy." Nature Babycare has some promising-sounding features, and Sandberg and her 8-year-old company are doing well by trying to improve the ecological impact of the disposable diaper business. But there's only so much improving that can be done within a deeply problematic industry. So don't let go of that guilt just yet.
First up, is Nature Babycare's claim of 100% biodegradability which, it turns out, applies only to the liner and plastic made from GM-free cornstarch. With the absorbing wood pulp [chlorine-free] and a channeling design that decreases the amount of non-biodegradable SAP [the absorbent crystal goo], Nature Babycare has gotten the overall biodegradable content of their diapers up to 70%, compared to a 30-40% ratio for plastic diapers like Huggies or Pampers. 7th Generation uses plastic, too, and almost every diaper maker uses SAP, though NB and gDiapers work to use less. [Tushies does not use SAP gel.]
The biggest question about biodegradability at all, though, depends on what happens to diapers after you throw them away, and in this regard, in the landfill-happy US of A, Nature Babycare is almost indistinguishable from the rest of the disposable diaper industry. American landfills just don't biodegrade anything; they bury it and seal it up in an anaerobic environment that prevents biodegradation. And with SAP and the presence of fecal matter, composting isn't an option, either.
Nature Babycare touts their less bulky design, which can decrease landfill contribution, and it can decrease the amount of fuel needed to incinerate trash [over half the waste in Sweden, is incinerated.] But in the end, a disposable diaper can't escape its inherent, environmentally suboptimal nature.
I have to say, I'm indebted to and blown away by the incredibly clear, exhaustive, and fascinating discussion of the "Green Diapers" issue put together by Katrien on MamaStories. It's really a must-read for anyone who takes a conscientious approach to the whole disposable issue. Most information out there is so tinged by marketing conflicts or emotional zeal, it's easy to tune out. But I found the simmering guilt that came from reading Katrien's post to be very enlightening and educational. Not that I know what we'll do with the next kid, of course, but still.
Nature Babycare diapers, aka Nature Boy & Girl, are available online at drugstore.com [drugstore.com]
Nature Babycare [naty.com]
thanks to Tania and her post, Biodegradable Disposable Diapers! [sic] [julianandco.com]
Green Diapers: SAP, biodegradability, chlorine, woodpulp [bolandbol.com]