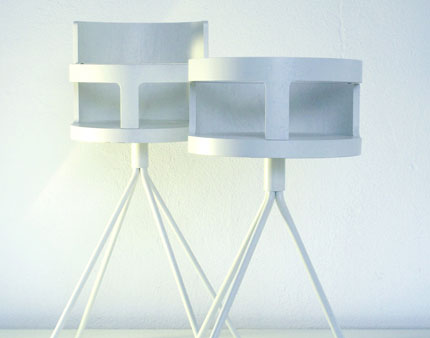 If you haven't heard about Sirch's Henry high chair, the German-born, molded birch ply Ode To Cheerio-Eating Joy, it's probably because you're not reading Naomi's blog enough. She picked up on it even without attending ICFF, while legions of designbloggers on the scene totally missed it.
Also, you OG Shakespeare types were surely none too happy with one of the Bard's soliloquies from Henry IV pressed into service for a high chair.
Well, I've learned my lesson. I'll just point out Sirch's new, slightly less-expensive Alfons chair, which Susanne from Kidsmodern spotted at the Tendence design show in Frankfurt. Alfons has a removable upper backrest and front support bar, so it can adapt as a kid grows older. There's no tray and no seat pad.
No official word on the material, but it looks like painted birch on enameled metal legs. As for pricing, I'm pretty sure it falls somewhere between the Henry and the other sweet, all-white high chair, the $18 Ikea Antilop.
See the Alfons and a bunch of other cool stuff at Kidsmodern's report, Best of Tendence 07 [kidsmodern.com]
Previously: Dost Thou So Hunger For This Sirch Ply High Chair? Yea, My Liege