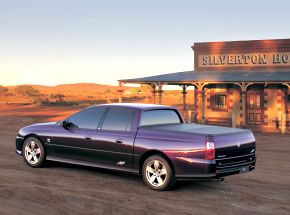 How is this possible? Until last night, the only Holden I'd ever heard of was the Caulfield, a temperamental, unreliable model which was entertaining but ill-suited for the city, and which ended up getting trucked out to Camarillo for a much-needed overhaul.
Now it turns out that GM's homegrown Australian subsidiary also makes Utes. It's as if El Caminos didn't disappear after all, but stayed alive, thriving and evolving in isolation on some remote Pacific island, where they were pressed into service by the local courier population to deliver dog food made from kangaroo meat.
The Crewman is the 4-door, crewcab version of the Ute. It seats five, drives like a car, but can handle the outback, all with a rear bed plenty big enough for Bugaboo smuggling. Do people haul their families around in these things or does their listing under the "commercial" tab at Holden's website mean what it says?
Or is every new family in Australia sitting around waiting for the release next year of the redesigned Holden Commodore wagon, which, from this leaked image, actually looks kind of...Aussome?
I'd ask what else you Aussies got on down there, but the last time we did that, we ended up with Welcome to Woop Woop, so I'll just keep my trap shut.
Holden reinvents the Aussie wagon [drive.com.au via jalopnik]
Practicality Plus: Holden's new King-cab ute [webwombat, heh]
mfr site: Holden Crewman - go all out [holden.com.au]