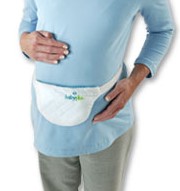 So I'm reading and enjoying Joel's return to gadgetblogging at BoingBoing, when I see a post about the BabyPlus Prenatal Education System, [$150] which provides a "curriculum" of 16 audio rhythms, basically remixes of the mother's heartbeat, which get piped in to a fetus via a speaker-equipped beltpack.
No sooner to I finish reading, than my wife asks, "Have you heard of the BabyPlus system? Nicole Richie just bought one." Celebrity Baby Blog cited a report in the Star of "witnesses" to the purchase. [Because the specific store was named, those "witnesses" are almost certainly the store publicist, not BabyPlus's. When a story is planted by a product's publicist it usually doesn't include a store name, because the celebrity was "gifted" the product for free. But that's another story.] So wow, two sightings on the same day? Now I was intrigued.
The Possibly Universal [sic] Origins Of BabyPlus Technology
BabyPlus was invented by Dr. Brent Logan, PhD., a Seattle psychologist, in the mid-1980's. He got the idea for prenatal stimulation from his wife who, in 1982, heard a radio interview with Joseph Susedik and his wife Jitsuko, who claimed that their four daughters were geniuses because the parents talked to them in the womb. [While it goes unmentioned in BabyPlus's literature, Joseph Susedik also claimed to have become a prolific inventor after eight men in "foil-type uniforms" took him aboard their UFO. Just months after the visitation, Susedik filed a patent application for an illuminated doorknob. Coincidence?]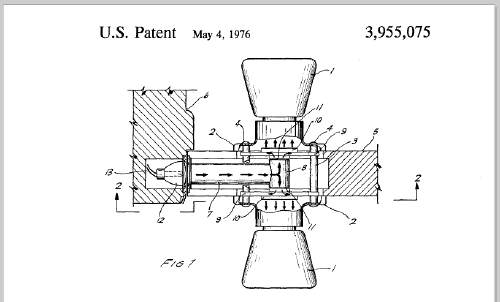 update: wow. In the few hours since I posted this, several people have already emailed asking, basically, if I'm crazy or what? Considering the sheer lunacy of the subject at hand, I'm not quite sure how to take that. Here's the deal, though:
The BabyPlus is a near-perfect example of using totally unsupported, pseudo-scientific claptrap to sell bogus-yet-hopefully-harmless, overpriced pieces of crap to unsuspecting, well-intentioned expectant parents. For close to two decades, its inventors have used misrepresentation and the appearance of scientific legitimacy to manipulate and prey on the valid, positive desires--and insecurities--of parents-to-be [in this case, mostly mothers.] For the large part, they have been aided in this endeavor by unwitting, lazy, or gullible reporters for non-scientific media.
Given the twenty-year history of BabyPlus, and even before you get into the question of taking prenatal education advice from the likes of the Star and Nicole Richie, this thing just felt long overdue for a thorough takedown. Which was an entertaining pleasure to do. If you find this post even half as illuminating as an alien doorknob, I'll have no regrets.
So, here we go:
I've just read through twenty years of coverage of BabyPlus from around the world, and I haven't found a single verifiable piece of independent, peer-reviewed scientific research, nor any documentation of the scientific basis for the near-miraculous claims made by Logan and BabyPlus.
Over 10,000 20,000 30,000 50,000 Served
The extensive success record the company points to appears to be references to Logan's "donations" of thousands of BabyPlus cassette tapes to mothers in developing countries, including Indonesia, Estonia, the Philippines, and Thailand. But there's no reference at all to the prenatal care organizations by which the tapes were actually distributed, and no discussion at all about the details of these vast prenatal revolutions, just the periodic ratcheting up of the number served by 10,000 at a time. [update: Brent Logan responds in the comments below that the donated BabyPlus systems were in China and Russia. And inner city Indiana.] Local reports only mention a few hundred pregnant moms attending "graduation" sessions for their fetuses.
My absolute favorite quote about these supposed global successes comes in a 1991 Time Magazine article: "This is not a yuppie toy," says its inventor. "We have barely literate families who are using the tapes."
What Kind of Doctor Did Mike Tyson Say He Was?
Logan's credentials may be legitimate, but the organization he hails from, the Prenatal Institute, appears to exist solely to promote BabyPlus. Its address is a small 3-BR house in a residential neighborhood north of Seattle, and the only non-BabyPlus reference to it is from the Edmonds Chamber of Commerce.
If Logan had ever published any peer-reviewed research about BabyPlus or its underlying theories, I would expect to find it on the front page of the company's website. In fact, there's almost nothing in the BabyPlus bibliography that wasn't published by Logan himself or APPPAH, the unaccredited organization set up by prenatal psychology professionals to promote prenatal enthusiasts' theories and to lend a veneer of scientific legitimacy to the field. So far, actual professional organizations for psychology, psychiatry, neuroscience, OB/GYN, and pediatrics appear to be shunning the APPPAH entirely. [Many of the citations are actually duplicates, one for a speech at an APPPAH conference, and another for the published proceedings. In the real scientific world, you only count that once.]
Which is not to say there's no basis at all for prenatal development and interaction. No one disputes the fact that a fetus in the womb can hear, and that newborns can recognize the voices of their mothers and others they heard in the womb. But the far-reaching claims of BabyPlus about charging synapses and preventing a massive die-off of neonatal brain cells seem utterly fantastic and unsupported.
You Can't Argue With Success! Seriously, You Can't
Likewise, the anecdotal evidence of superbabies--babies talking at six months, reading at 18 months, being born with their eyes open [?], "wanting to walk" at three months--are simply hilarious. Deciding to buy a BabyPlus because some kid in Austria could sit up a month earlier than "normal" actually makes less sense than buying it because Gwen Stefani supposedly used one. And both of those reasons make less sense than a nightlight inspired by extraterrestrials.
BabyPlus Is Perfect For [Insert Sales Pitch Here]
The actual claims made by BabyPlus varies by country, mirroring each culture's most sensitive parental aspirations, insecurities and pressures. Here's the US:
BabyPlus® babies at birth and infancy:
* More readily nurse
* Have increased ability to self soothe
* Are more interactive and responsive
* Are better relaxed and alert at birth

And later in life, these children demonstrate:
* Earlier developmental milestones
* Improved school readiness
* Enhanced intellectual abilities
* Greater creativity and independence
* Longer attention spans
The pitch on
BabyPlusAsia
, meanwhile, begins, "BabyPlus® may be the most valuable educational system ever developed."
Competitive advantage
replaces any mention of self-soothing, breastfeeding, or attention spans:
The BabyPlus sound pattern introduces your child to a sequential learning process, built upon the natural rhythms of their own environment.

This "auditory exercise" strengthens brain connections during the developmental time period when the advantages will be most significant for a child. BabyPlus is the first educational tool designed for prenatal use that has been proven effective. BabyPlus children have an intellectual, developmental, creative, and emotional advantage from the time they are born.
Not That There's Anything Wrong With That
If you want to play music or rhythms to your unborn child, go right ahead. The Mozart Effect is a thoroughly disproved myth, but unless you spend your entire third trimester in front of the speaker tower of Queens Of The Stone Age, there's no identifiable way it could harm the fetus. There are plenty of ways to do it, including the most old-fashioned: singing. The
BabyPlus timeline
points out the low level of technology involved--the industry really took off in 1980 with introduction of the Sony Walkman.
Logan's patent for his supposedly unique system
cites eleven previous patents for prenatal audio belts and devices. [Oddly, though BabyPlus's "cardiac curriculum" was codified and put on the market as early as 1987, Logan only applied for a patent in 2002.]
CORRECTION: APPENDED
The craziest part is that Nicole Richie's baby daddy is a freakin' DJ is in a freakin' band, and yet she goes and blows $150 on 16 beat tracks composed by some total geezer quack from BF Seattle. Actually, the craziest part is that they totally used the same image as Baby Roadies' banner.
CORRECTION: Nicole Richie's longtime ex-boyfriend Adam Goldstein is a DJ. Richie's baby daddy is Joel Madden, lead singer in Good Charlotte. Given these delicate circumstances, I now see Ms. Richie as simply going to great lengths to avoid using iPod playlists from a previous relationship to program the neurons of her new man's baby. Very thoughtful. Daddy Types regrets the error.