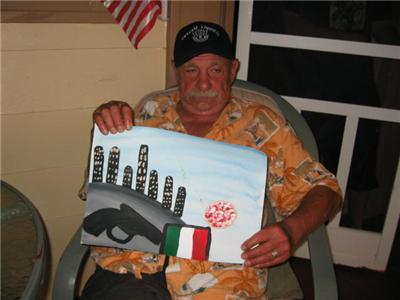 You may know Henry Hill--the original Wiseguy who informed [sic] Nick Pileggi's book which became Scorsese's and Liotta's Goodfellas--from a question in the Movies Edition of Trivial Pursuit that you bought at a garage sale for a quarter and placed in the guest bathroom.
But did you also know he's a working artist? And a parent? And a circumcision fan? And that I couldn't find a quote longer than three words from this Village Voice interview, because every fourth word is f*ck, and I'm still wary that my mom mentioned the amount of "language" on the site? Hey, at least she reads it.
Oh wait, here's a quote, about selecting subjects for his painting:
...it's just what comes into my head at that certain time. If I don't have any beers in me then my hands are shaking and I've got to do abstract.
Judging by the precision with which that gun, skyline, Eye-talian flag, and pizza are rendered--and by the pensive look in the artist's eye--Hill was primed and taut as a Rembrandt canvas for this one.
Goodfellas' Henry Hill Talks Art, the Tainted NBA Ref, and Circumcision [villagevoice via gawker]
Visit the Henry Hill Goodfella Artwork Store on eBay, most of it's $24.95+$3 shipping, and SFN (Safe For Nursery) [ebay.com]