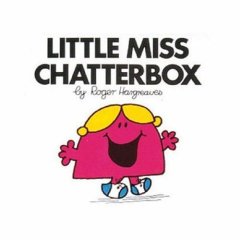 So the kid and I just read Mister Tall, one of the Roger Hargreaves books, and I know some old man at the Wall Street Journal will harrumph when I say it, but the book's just too damn long and too damn wordy for me.
I just timed it: 16 pages, 3:10.
Part of the problem is the annoyingness of the Mr Men & Little Miss characters; most of them are Little Sociopaths who only end up giving bad ideas to Little Kids who don't yet know any better. Also, there's Hargreaves' language: He sounds like just the genial, chatty boor you'd get stuck sitting next to on a slow train to Surrey.
Usually, I end up skipping half the words in a Hargreaves book, just to keep my cool.
I never compared the two, but read side by side, Hargreaves must have had Beatrix Potter in mind when he wrote. The Tale of Peter Rabbit is a whopping 69 pages, and it just clocked in at 5:17. While it's empirically longer, it doesn't feel it; maybe it's the better writing. Or maybe it's just the time of day or frame of mind.
Either way, for bedtime, we classify Peter Rabbit as a long book, i.e., too long for the "just one more" encore. Same with Seuss, Babar, and any book starring Frances the Garrulous Badger.
Just for comparison, we read a stack of boardbooks and little kid books, without any discussion or "Where's the blue butterfly?" analysis. Here's the result, :
I am a Bunny by Ole Risom & Richard Scarry: 12 pages, 1:13
The Very Busy Spider by Eric Carle: 12 pages, 1:51
First Book of Sushi, by Amy Wilson Sanger: 9 pages, 1:27
A Magical Day With Matisse, by Metzger & Bober: 9 pages, 1:30
Thank You Bear by Greg Foley: pages, 1:29
Bossy Bear by David Horvath: 16 pages, 1:41
So there you go. A Children's Book is 10-16 pages and takes no more than 2:00 to read. Does that sound right to you? What books are too long? Honestly, are scientists claiming the developmental bulwark against TV-zombiedom is a 90-second, 150-word book? Because you could squeeze a couple of books in during a commercial break. MTV Generation indeed.