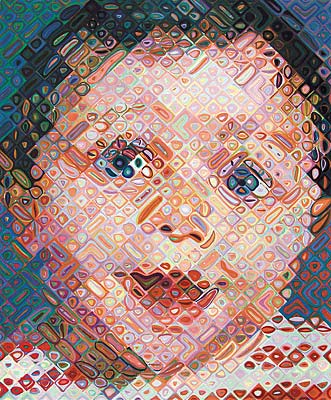 There was a time when getting my portrait painted by Chuck Close was a quiet aspiration in my life. Mostly because he doesn't take commissions; he only paints pictures of family and friends. And as one of the nicest, smartest, lowest-key geniuses in the art world, getting the invite would just be like a cherry on a really awesome sundae of a relationship. Then the dotcom bubble burst and SoHo turned into a heinous mall. Oh well.
Still, if he called me up and wanted to paint the kid, I'd be totally fine with that.
This 2002 portrait of his niece Emma is actually a woodcut print based on a painting in Close's late signature style. Chuck spent three months on the painting; master printer Yasu Shibata spent two years carving 27 wodblocks to print 113 colors 132 times to make each print. Every aspect of the process is like a miraculous innovation, beginning with Close's secret for getting a toddler to sit still for three whole months.
Emma, Woodcut, 2002 Chuck Close [paceprints.com]
The Met Museum has a good writeup of the 2004 exhibition of Close's prints, but The University of Houston has good, in-process images of the woodblocks [metmuseum.org, uh.edu]