Writer and creative block expert Susan O'Doherty's teaching an interesting-sounding seminar tomorrow night at Mediabistro in NYC:
How to balance your job as a mom and your job as a writer

It's possible to be both a great mom and a successful writer, but it takes organization, perseverance, and the willingness to set firm boundaries. Most of all, it takes the belief that your ambitions are important and worth pursuing. If you are a mother who writes -- or wants to -- this seminar will help you develop a blueprint for your own success story.

In this seminar you will learn:


How to identify the personal and career goals that matter most to you

How to let go of perfectionism and just do the work

How to set "office hours" -- and stick to them

Techniques for resisting emotional blackmail from your kids, your spouse, or your boss

How to start taking yourself seriously as a professional and command respect from your family

Strategies for developing emotional support systems, emergency child-care backup, and professional networks
Wow, sounds fascinating, I wish I were invited. But I couldn't go anyway; because I'm holed up in a hotel alone, with deliberately intermittent Internet access, trying to finish a book project. It's a rather extreme solution, though it's yielding some significant progress.
I guess my problem is, I struggle with recognizing either the needs and feelings of my family or the expectations of my publisher as "emotional blackmail". Also, I have a hard time "commanding" them. [Wait, that's two problems. Also, I'm horrible at rewriting continuity or outlining or something! Also math!]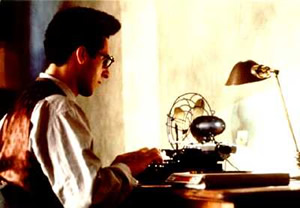 If only there were a seminar for dads. But since there's not, I guess I'll just muddle through. If any writer-dads have some actual, useful advice besides [or including?] the dreaded Barton Fink, feel free to share your feelings in the nurturing, accepting space below. Moms who "dabble" in writing, [good for you!]: I don't know what possible relevance your experience might have, but feel free to join in.
Managing Motherhood and a Writing Career, $65
WHEN Tuesday, August 14, 6:30-9:30 pm
WHERE mediabistro.com, 494 Broadway [mediabistro.com]