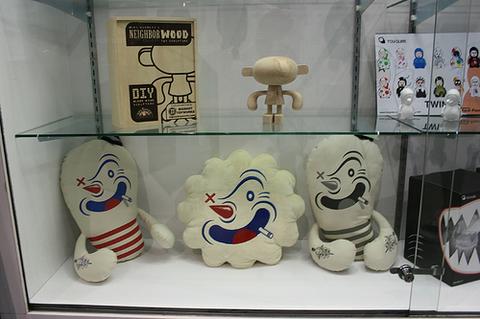 Here are a couple of interesting-looking SDCC finds from Kidrobot's photostream:
Up top is a DIY version of Mike Burnett's awesome Neighborwood toy figure. When it comes to the preferred mediums of the indie toy scene, wood is a distant third after vinyl and plush, which is too bad. As Burnett's own Neighborwood collaboration exhibition and the jaw-dropping awesomeness of Takeji Nakagawa's Take-G toys demonstrate, wood has plenty of creative potential for contemporary designers. Let's hope they start exploring it.
Anyway, the Neighborwood DIY Blank Wood Sculpture is a small, handmade edition produced by Bigshot Toys; they said on the kidrobot forums that it'll retail for $35-40, stay tuned.
On the lower shelf, is the cool but slightly kid-problematic Coney plush series by artist Brian Taylor, aka Candykiller. The simple 2-colors-on-cotton style looks really fresh. The cigarettes are totally in character, but--and maybe this is a difference between parents and kidults--if I give the kid a toy, I expect its butt on the back.
If you don't mind the smoke, Bigshot's producing the Coney plushes as a 500-piece edition, with 100 of the b/w. It has a sandbag weight in the base, and will go for $35-40.
image: "at Toy Qube" from kidrobot!'s flickr stream [flickr]
OMG! Another Wood Toy from Big Shot!! and Candykiller Coney plush by Big Shot Toyworks [forums.kidrobot.com]
Previously: Mister Burnett's Neighborwood