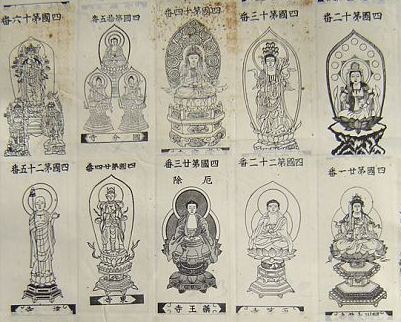 It doesn't really matter, because it's already sold, but for some reason, this scroll just seems spectacular to me. Part of it's purely aesthetic, because the simple inkstamped cotton technique is so simple. Part of it's the content and the devotion it conveys. And part of it's kind of sentimental, since the kid's first trip to Japan when she was just a few months old was, in fact, to Shikoku, the rural island where the only thing going on--besides the very occasional vacuum chamber testing of x-ray telescope satellites--is Buddhist mega-pilgrimages.
The Shikoku Pilgrimage is a circuit of 88 Buddhist temples, see, which the venerable monk Kukai visited in 774. Walking the 1200km takes between 30-60 days, though cars and buses and organized tours can cut down on the logistical hassle pretty dramatically.
Each temple has a distinctive Buddha stamp. Pilgrims known as o-henro-san collect'em all in books, on cloths, or more commonly on white cotton jackets. This particular scroll was found and sold by Sri, a Greenpoint vintage textile gallery run by Stephen Szczepanek. He specializes in boro, as in boroboro, the Japanese term for ragged; it's an insanely beautiful, unselfconscious, poverty-driven patchworking process that's kind of becoming the new, crafty hotness, I'm afraid. Still, good stuff.
In a nutshell, stamps rock. When we went to the Hall of 33 Bays in Kyoto last December, we got the kid a blank book, which a monk stamped and inscribed for her, like her little Buddhist passport. [Note to self: where'd we put that thing?] And when we discovered Muji's little DIY stamp kit for decorating these flimsy little 50-yen muslin tote bags, the kid and I would head over every morning to play with the stamps; the products became her Christmas presents for her aunts and uncles. I'll dig up a picture of one.
A Scroll of 88 Sacred Buddhist Temple Stamps - Sold [srithreads.com]
Profile of Sri's sweet space: When the Everyday Becomes Art [nyt]