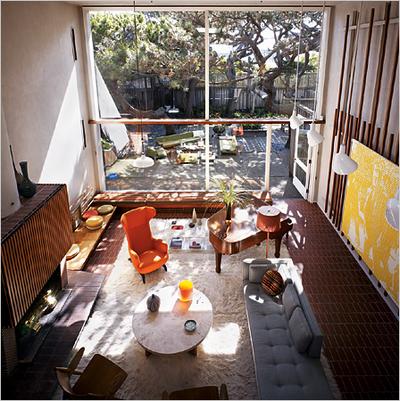 The kids were demanding their own rooms, and Tom Lloyd-Butler and his partner Dan Zelen needed extra space for their surfboards, so they carefully added on to the sweet 2BR mid-century modern house that UC Berkeley architecture professor Ernest Born had built for himself on the Great Highway in Ocean Beach, San Francisco.
The NY Times Magazine has a feature on the remarkably sympathetic, 3-story Cor-Ten steel tower by Aidlin Darling, which sits next to Born's double-height, fir, concrete, cork and travertine box. When adding space without altering the original meticulous and intact design, it helped that the little house was on six lots--did I read that right? three wide and two deep? Nice work, I guess it's great to see how the other half lives. Or the other 0.1%, anyway.
Or the 1% of the 25% of the 5% of the 10% of that 0.1% who bought the house with their wives, then divorced, kept the kids, and built on with their new male partners.
Twice as Nice [nyt mag, image: dwight eschliman, nyt]
The project was also profiled in Dwell: "By 2005, the family's needs had changed." [dwell.com]