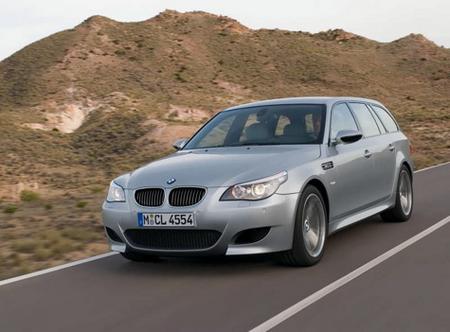 By now everyone probably knows about the insanity that is the BMW M5 Wagon, or as it's known around the Bayerische, the M5 Touring. [Jeremy Clarkson reviewed the 5-liter V-10 with its 507hp, 10mpg, and not-quite-flat-folding seats, in May for the Times of London.] The Bangle-era BMW's are getting a little better-looking, but they still make me think of a woman who, seeking to impress, put on all her jewelry to go out, but who forgot the last, crucial step of taking one thing off. Also, they're £70,000?? Can that be right? Oy.
Update: A couple of people have emailed about the M5 Touring's US launch date. Good question, since I'd just assumed that now that it was out in the UK and Europe...Oh, OK, here we go: NEVER.
As it turns out, though, the current M5 Touring is not the first M5 Touring. If you want doors-blowing BMW wagon, there are a few--less than 1,000, less than 900, actually--options for you. And though they might not have 500 horsepower, they'll almost certainly be rarer, more exclusive, and more stealth-awesome than the run-of-the-mill M5 Touring coming to the States this fall [Just remember to tell the guy who buys one that it's "run of the mill," too.]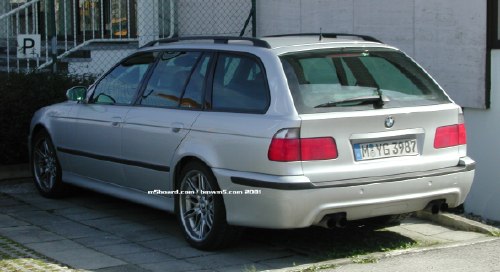 First up, the M5 Touring in the E39 platform, the 5-series produced from 1996 to 2004, is about as rare a BMW as you can get. So far, there appear to be two in existence, one factory original, and one Frankensteinian miracle labor of love. Apparently, the Gerhard Richter in charge of engine development for the M Motorsports division had an M5 Touring made for himself. The M5board photos of it [above] in all its debadged glory date to 2001. If it weren't for the M wheels and the slight lip of a rear spoiler, the only way you'd know what just blew by you is by counting the tailpipes. [update update: Edmunds just posted an interview with Richter, who now heads BMW M, but they didn't even ask about the Touring. What is up?]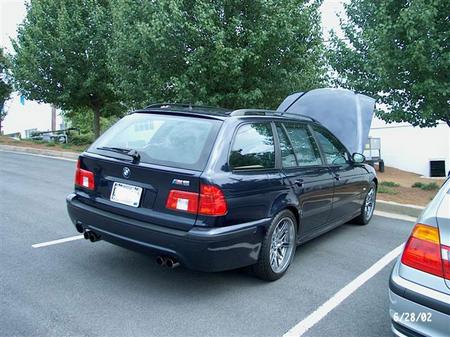 The only other E39 M5 wagon I could find is an insane-sounding project, put together somehow by a tech at a BMW dealership in Georgia known only as Tim. He somehow managed to build an M5 Touring by putting the engine, 6-speed manual transmission, relevant bodywork, and even the luxury interior of a wrecked M5 sedan into a 540i wagon. By Georgia, I think he got it, too; any nitpicking about the provenance, you'll have to catch him yourself to tell him.
If you're not the guy who designs or builds them, then, you're left with the other 891 M5 Tourings in existence, the E34 models, which were hand-built at the M-sports factory at Golching between 1992 and 1995. The car weighs about 180 pounds more than the M5, and has the Euro-spec 3.8-liter, 340-hp inline six [US M5's had 310-hp, 3.5-liter engines.] and a 5-speed. There was a stiffer, performance suspension option called Nürburgring.
The M5 Tourings were never imported to the UK or the US, though a couple of dozen have since been DOT/EPA-tested and imported privately. So far, the E34 M5 Touring Registry has identified around a quarter of the cars made. To bring one to the US seems to involve about $25,000, plus another $10k for the emissions mods and testing. An unusual--and disturbing--number of the M5 Tourings appear to be purple. Not sure what that means. Like a baby, having this kind of rare car demands a lot of responsibility and foists changes on your life. If you've stepped up to the challenge, though, I'd love to hear about it.
Pics: The one and only BMW M5 Touring (E39) by BMW M [m5board.com]
E39 M5 Wagon pics are here! [m5board.com, also at ucsdxb0i's pbase]
Discussion of the E34 M5 Touring Registry [m5board.com]