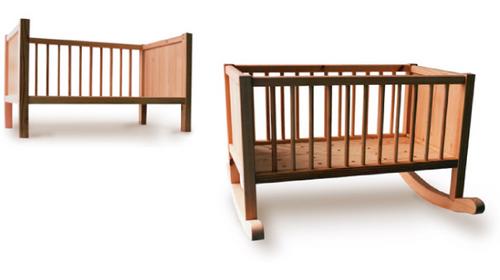 Andy does it again. On his dadblog, Stork Bites Man, he posted this photo he found of the prolific Ikea designer Erika Pekkari's sweet solid wood Trofast crib, which converts into a sofa. [Which I think is Swedish for 'daybed,' but still.] It dates from 1998, ancient history in Ikean terms, and it's long gone. [Today the Trofast name is used for a series of all-pine storage racks. Do they have any baby- or cradle-sized plastic bins? No reason, just asking.]
DT reader Becster found a nearly identical version at the nicely named JoJo Maman Bebe [glad someone's knocking off out-of-production designs], but the don't ship outside the UK.
Never mind finding vintage [sic] Ikea to buy; it seems almost impossible to find out about Ikea designs that have gone out of production. Anyone know how of other lost Swedish kids classics out there?
Multi-functional awesome circa 1998 [storkbitesman]
Erika Pekkari portfolio [erikapekkari.se via bloesem]
88cm is no sofa: Rocking Crib, L88 H61 W48 cm, £80.00 [jojomamanbebe.co.uk via becster]
Previously: Vintage Ikea High Chair