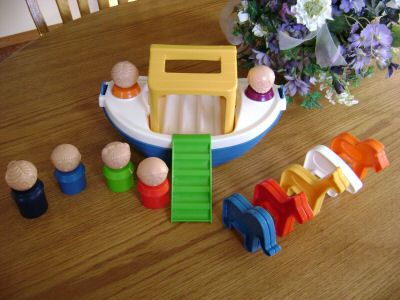 So DT reader Tim writes about how their 1-yo son loves playing with their older friend's Tupperware Noah's Ark when they go to visit. And I'm like, "Tupperware Toys? Are you kidding me? I had no idea!"
And sure enough, there's a Noah's Ark for sale right now on eBay. Though an unidentified pair of animals has already gone extinct from the set, the friendly Canadian eBayer is generously augmenting the doll gene pool by adding four extra Tuppertoy people.
But when I Googled up some info on these mysterious Tuppertoys, I was blown away. We had almost every single one of these things as kids. That Shape-O ball? Those Zoo-it-Yourself animals? The School Yard, the Totempails, you name it, we had it. I always assumed that School Yard was Fisher-Price, but I guess not.
My mom must've had a giant "Invite Me" sign pinned on her back; how many Tupperware Parties did it take to accumulate all that stuff?
Tupperware TUPPERTOYS NOAH'S ARK + extras ~ VINTAGE, starting bid: $6.95 + $10s/h, ends July 23 [ebay via tim]
Search for other Tupperware Toys on eBay [ebay]
Tupperware Toys: 1965-1989 [tupperdiva.com]