A DT reader--we'll call him Joel--has a problem. It's not his wife Lana who, by insisting he get that low-mileage, late model Porsche 928 GT, sounds like what every white boy off the Lake wants.
No, Joel's problem is sharing the joys of lakeside driving with his 2-year-old daughter. Sometimes you just have to say, "WTF?" but driving around with an uncarseated kid in the back seat of your Shark is not one of those times.
I've posted about official, rebranded Porsche car seats [since gone MIA], and airbag-disabling car seat installations in Boxsters [since sold], and strollers that fit into 911 luggage compartments [Quinny Zapp, just barely] before.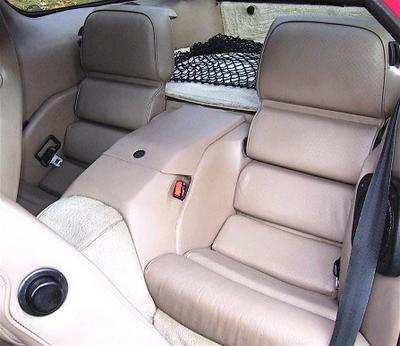 But does anyone know of car seats--for toddlers or infants, for that matter--that meet contemporary safety standards, and that fit into the 14-inch wide, nominally seatbelted, bucket-shaped indentations that pass for rear seats in a 928?

On paper, the Sunshine Radian 65, which clocks in at just 14.5" at the base [and which is also reported by some to be slightly convex] looks like it should fit. Has anyone tried it? Has anyone found a car seat of any kind--EU, JP, US, ETC.--that can be successfully installed into the rear confines of a 2+2 coupe? Please share your match-up/mashup expertise below. Otherwise, Joel will have to wait until the kid's like 6, and by then, Family Porsches will be everywhere, and the magic will be gone.