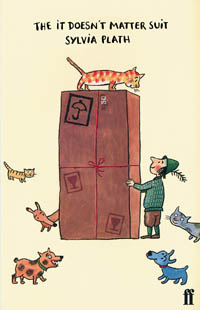 Forget it, it's too hard to write anything offhand about Sylvia Plath. She did her most amazing writing at the same time she was having and raising two kids. [Frieda was almost three, and Nicholas was one when Plath killed herself.] One of her most carefully anguished poems is called "Daddy." I hope I never provide the occasion or inspiration for such a work.
Plath joins Graham Greene and Gertrude Stein on the DT list of Writers I'd Never Have Imagined Wrote Children's Books. [Any manuscripts you're holding back on us, Mr. Pynchon? Hmm?] But you know what, she was a prolific mother of two, so why not?
Considering the florid, overwrought discussion that's poured out over the rest of her oeuvre, I couldn't find any significant consideration or even background on Plath's children's stories, all of which were published posthumously.
The Bed Book has the best reception [i.e., a comment on a blog and a Plath messageboard.] and sounds like the best place to start:
…So a Pocket-size Bed
Is a fine bed to own.
When you're eating out
With friend Jim or Aunt Joan

And they say: It's too bad
You can't stay overnight
But there isn't an extra
Bed in sight

You can take out your Bed
Shrunk small as a pea
And water it till
It grows suitably.
The It-Doesn't-Matter Suit
, a story about a kid who wants a suit for every occasion,
looks pretty wordy-long, not the choice for nights when you're barely holding it together by bedtime. And Mrs. Cherry's Kitchen, well, I just don't know. A book about kitchens.

The It-Doesn't-Matter Suit, with illustrations by Rotraut Susanne Berner, was published in 1995-6. It's on Amazon from just $1.31. All three stories are in The Collected Children's Stories, published in 2001 with illustrations by David Roberts. That's like eight bucks. [amazon]
Frieda Hughes has also written a book for very young children, The Meal A Mile Long. No idea.
Hothouse discussion of "Daddy" [sylviaplathforum.com]

Previously: Children's books by Graham Greene & Getrude Stein