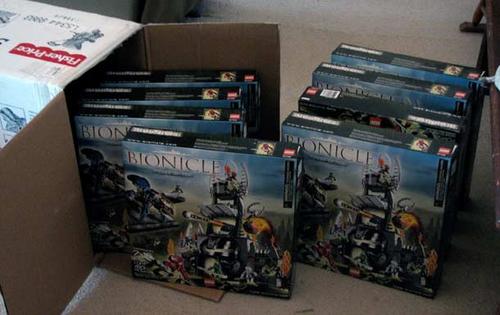 A mother of three bought a boxed Fisher-Price Stand 'n Ride Duo Stroller off the showroom floor of the local Toys R Us. Street value: $150.
When they got home and opened the box, eight boxes of Legos Bionicles fell out. Street value: $320, and much more eBay-able than a stroller.
So after dinner, mom and kids troop back to TRU for the 2-hour explanation/escalation/exchange ordeal. On the phone, dad Googles around for the instruction manual, in case so they decide to take the floor model home. He finds online discussions of product recalls and defects--whoa--and so they just get a refund and go home, exhausted and stroller-less.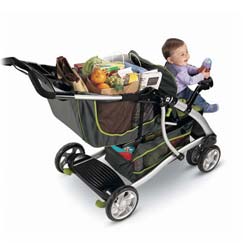 Dad then writes the whole thing up in a sardonic post on his blog.
Shopping at a customer-service-challenged bigbox retailer sure sucks, especially when you get broadsided by their wacky, box-swapping antics. BUT--and I don't want to sound like too much of a dick here--the dude's stomach's acting up after his after-dinner bikeride, so his wife goes back to the store, fine. But why do the three kids have to go back? Brother can't even watch them for an hour from his deathcouch?
And also, why does his online research only come after the stroller purchase? TRU's behavior is inexcusable, but I don't think the dad here has really earned the right to tell this story as his own.
Not to mention the missed opportunity for a truly spectacular blog post about building a double stroller out of robotic Legos. Just think of the possibilities.
Lego Stroller [ericcarroll via consumerist]
Previously: Fisher-Price Active Gear Strollers For Where You LIVE: The Mall