Are you still bummed about losing out on the David Netto crib on eBay last weekend? Because now you have a second chance at scoring a 96% discount on a sweet minimalist crib.
There is a solid maple crib--just look at the grain on that rail up there--by the incomparable daycare and school gear maker Community Playthings of Rifton, NY selling on eBay right now, and the opening bid is just $9.99. The catch: you have to pick it up in Scranton, Pennsylvania.
Community Playthings' cribs are compact size, not standard, which makes them perfect for a small nursery--or a New York apartment. This one's, height-adjustable, rolls through doors, and folds flat. It retails for a mind-boggling $265, with free shipping. Unless you live within 30 minutes of Scranton [Hi, Wilkes-Barre! Mohawk Pride!] or have a Poconos vacation planned for next week, gas and tolls alone make it a tossup between new and ten bucks. Crazy, huh?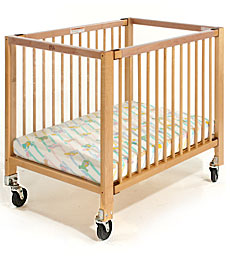 But now that you're thinking of Community Playthings, let's just take a look at their options. The dropside cribs have unique, telescoping spindles [alas, not hardwood] which allow access to undercrib storage. But for pure stylistic pleasure, the winning combination has to be the bigger casters of the all-wood evacuation crib, coupled with the Clear View plexiglass ends for $330. Including a mattress. It's the ne plus ultra of minimalist daycare, delivered right to your door.
result: sold for $22, three bids. nice deal
COMMUNITY PLAYTHINGS MAPLE BABY CRIB minimalist Daycare, ends July 14 [ebay via andy]
Wooden Cribs by Community Playthings, $265-405 [communityplayhings.com]
Previously: God Bless You And Your Sweet $300 Maple Crib; Advice: How's the compact crib working out?