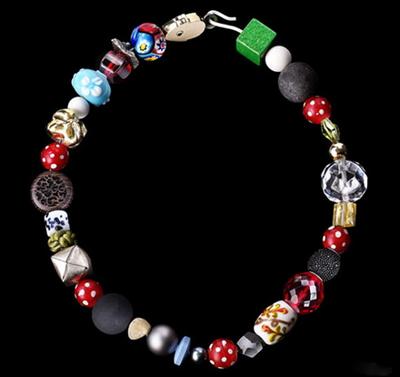 Droog-and-beyond designer Marcel Wanders spent six months collecting rare and unusual beads, beads with stories, to make a necklace for his daughter, Joy.
Now, whether he had enough beads left over, or he just replayed the concept, I'm not sure, but he's created a limited edition series of rare bead necklaces for 20 ltd, a London-based online design shop that only sells 20 exclusive things at a time.
A little Wanders-designed storybook is included to tell about each of the 31 beads, including:

Baccarat Bead: a hand-cut crystal replica of a bead from a Baccarat chandelier made for Russian Tsar Nicolai.

A black pearl [note: not The Black Pearl]

A replica of a bead from Queen Elizabeth II's rattle [I thought it was a scepter]

A gallbladder stone [!?]

A Knot Bead symbolizing Wanders' famous 1995 chair

A Viagra Bead

OK, I'm really hoping right now that this is a necklace inspired by, not identical to, the one he gave his daughter. If you're too slow on the clickthrough to purchase one of the twenty Wanders necklaces, or if the unique talisman you envision for your kid doesn't involve Queen Elizabeth's gallstones, you could always just launch your own beadquest. Beats collecting thimbles.

Rare Bead Necklace, ed. of 20, by Marcel Wanders, £2,000 [can you get the VAT refund?] [20ltd.com via dezeen]