David from Hemming's sent me this link to Sniff Patrol's latest spy shots of the BMW 1-Series, which got me thinking about sweet, small coupes.
Totally unrelated to that sight gag, I remember seeing a momblogger who'd repainted her kid's Little Tikes Cozy Coupe, turning it into a black-and-purple fringed gothmobile. [Ring any bells? Was it just an aspartame-induced hallucination? update: here it is, from NM in the comments.]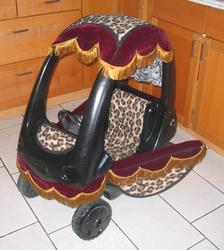 Has anyone had any luck repainting Little Tikes cars or other Giant Primary-Colored Polyethylene Gear?

The Little Tikes Care & Maintenance FAQ actually says not to paint their products because "paint will not adhere" and it "could damage the polymer structure." And yet, the pitch for Krylon Fusion spray paint for plastics promises to "turn a treasured toy into something new again." So which is harder to believe: that the paint works, or that there's such a thing as a treasured plastic toy?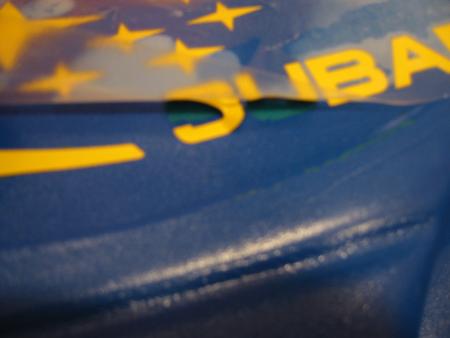 Because the two projects I've seen are less about tending heirlooms than about salvaging a dingy garage sale find. Subaru racing fandad Ed Johnson used paint and decals to rework a LT Cozy Coupe from a church sale into a kidsized replica of Petter Solberg's 2001 Impreza WRC. It looks awesome--it got a mention in the Subaru magazine, and even he got Solberg to autograph it--but his HowTo photo album shows the decals pulling up the Krylon Fusion paint. He solved the problem by double-layering with a clear decal sheet, but still. Is this a fruit rollup situation, where you just need to monitor your kid's Fusion intake?
Almost more importantly, are there any other great mods out there?
Project Cozy Coupe WRC gallery and discussion forum [imagestation.com]
Gothmobile, aka Pimped His Ride [craftster.org via dt reader sara]
Krylon Fusion for Plastic [krylon.com]