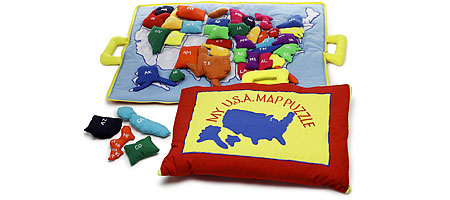 When I was little, I learned the states from the hand-painted map on the neighbor's camping trailer, which they filled in every summer: "All Lower 48!" it said. Also, I had a beat jigsaw puzzle, where Rhode Island was the size of a Geritol. We must've swallowed and pooped that state out five times as kids. Good times.
Meanwhile, the kid's neighbors in our old place on the East Side will be studying the states they're flying over between Teterboro and Aspen and Martha's Vineyard.
Some things don't change, though: New England still looks like a choke hazard.
My USA Puzzle Map, $32 at Uncommon Goods [uncommongoods.com via Cookie's new Travel Products feature. Also Swiss Miss circa Feb '06]