I spotted this greatlooking rocker at the National Building Museum today; it was on the porch of their Green House exhibit. Peter Danko designed the Gotham Rocker for J. Persing to use as little material as possible. It's made from molded maple laminate, and the webbing is surplus seatbelt fabric. It comes in a range of colors and stains, though I have to say, I like the natural maple finish best.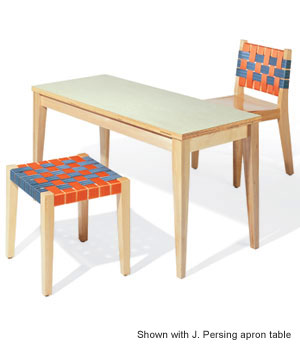 If you really want to get matchy about it, J. Persing also has a series of hardwood maple-and-woven web chairs called Arborline, which come in children's sizes. you could get the whole set finished the same way; it'd look like you won it on an ecologically conscious version of The Price Is Right Showcase Showdown.
The price is not terribly wrong, either. The Gotham Rocker's $999, and the Arborline Child's side chair's about $250-300.
See specs for Gotham Rocker and Arborline children's chairs and benches for J. Persing [jpersing.com]
Vivavi has the Gotham Rocker to order for $999 [vivavi.com]
The Green House is at the National Building Museum through--whoops--tomorrow [nbm.org]