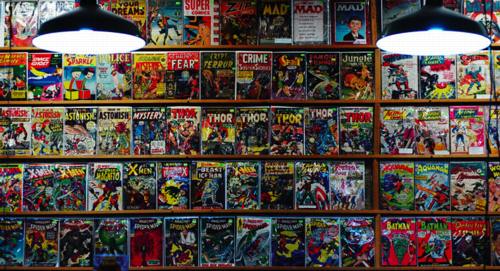 This is spectacular. Chicago designer and photoblogger Nick Campbell took this picture last year in a comic book store. Whether you're DC or Marvel, X-Men or Avengers, Stan Lee or Jack Kirby, Lichtenstein or Warhol, Gursky or Hofer, this is the kind of educational material the kid needs exposure to, pronto.
Fortunately for 248 of you, it's the latest limited edition creation to come up in the Coudal Partners Swap Meat, an inspired, facilitated exchange of random creativity and stuff. Campbell and Coudal produced the image as digitally printed, 28x18-inch posters, which are just $20 each.
Actually, now there are only 247.
Comic Book Store Poster by Nick Campbell, aka Greyscale Gorilla, ed. 250, $20 [coudal.com]
"Comics" 03-05-2006 [greyscalegorrilla.com]