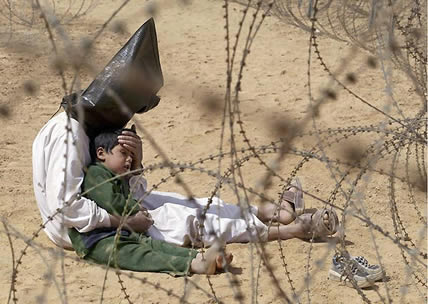 It's by AP photographer Jean-Marc Bouju, who was embedded with the 101st Airborne Didvision. From the AP's press release:
The photo was made during a rare moment of humanity in a war zone, Bouju said, when a father who had been taken prisoner by American troops was allowed to hold his 4-year-old son who also was taken when the man was arrested.


The boy, Bouju said, was panicking and crying, so an American soldier cut the plastic handcuffs off.


"My little girl was four at the time and I couldn't help thinking what would she have thought in the same situation," he said. Bouju wasn't able to get the prisoner's name and doesn't know where he or the child is now.


The father and son featured in the image are sitting side-by-side behind coils of razor wire. The father has one hand over the boy's forehead and his other arm hangs loosely at the boy's waist. A small pair of sandals lies a few feet away in the sand.


On that day, Bouju was only able to transmit one image to his editors because of problems setting up a satellite link. It was that photo that won the award.
[via
kottke
]