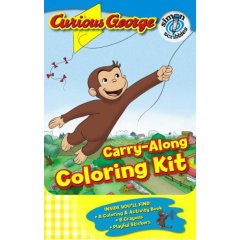 A reader called me out for harshing on Maisy, and she's right; though the particular book the kid and I read was lame, it's far from the worst example of brand-brainwashing crap that the Baby Industrial Complex foists on our kids. Maisy just happened to be the one who got stuck under my blogging tires; but during the same library visit, I refused to even read the kid a Dora book.
And now that I think about it, we read a Curious George book whose stupidity cut even deeper because it's a classic I knew and loved. Did you realize there's a whole series of Curious George books drawn "in the style of" the originals, basically authorized knockoffs with stories cooked up in a publisher's conference room somewhere?
[If you're curious, check out Babar, too; Jean de Brunhoff wrote a few books featuring the elephant characters he dreamed up for his son's bedtime stories. Then Laurent picked up and ran with it. Somewhere along the line, Babar's Yoga for Elephants seemed like a greenlightable title, sold with the awesome tagline, "An Original Laurent de Brunhoff Book". Mais, bien sur.]
So who is trying to simultaneously fill our kids' heads and empty our wallets by cranking out the most crap? What characters are battling hardest for brand recognition among kids who, just a few months ago, couldn't see anything more than three feet away?
Here's a Daddy Types Query to find the biggest kids brand whore out there in three easy, if admittedly unscientific, steps:
Pick a character, any character, from the kid/baby world.

See how many children's books they have by searching for their name on Amazon's Children's Book search. [Note: to ensure consistent tallies across all characters, make sure the pulldown menu next to the search box shows "Children's Books".]

Post the name you searched for, the number of results, and if you can figure it out, the URL to the search results page in the comments below.

Extra Credit: if you see a particularly ridiculous example of a moneygrubbing title [e.g., Elmo Learns How To Use His First Visa Card], feel free to throw it in, too. I'd add Babar's Yoga, but I actually want it to turn out to be good and fun and hilarious. If it's not, please don't tell me.

I tallied a bunch below off the top of my head, and already, it's clear I owe Maisy an apology.