So yesterday, while setting up for the kid's pre-school year-end pajama picnic [where the kid ate sushi and edamame with chopsticks, btw, a bit show offy, I admit], I moved a fellow parent's Volvo XC70. Smooth. And such a tiny steering wheel.
After 16+ hours driving to and from the beaches of my youth this weekend [where I packed the rice and seaweed so the kid could eat veggie booty maki in front of the family, very show offy], the car was awesome and comfortable, ran like a top, and blazed right by the convoy of "classic" cars clogging I-95 like plaque on an artery. But I was beginning to wonder if maybe our 1985 Mercedes wasn't getting a bit too old for this kind of thing.
Then after watching this cute Wrigley's commercial, I realized the real problem: it's not old enough. Fix the odometer, baby, we're going for a million!
And speaking of Down South, sushi, and offensive and historical racial stereotypes, I'm sure it's totally fine to give the little animated sushi character buckteeth--because it's Australia, and Australians are Asian, too!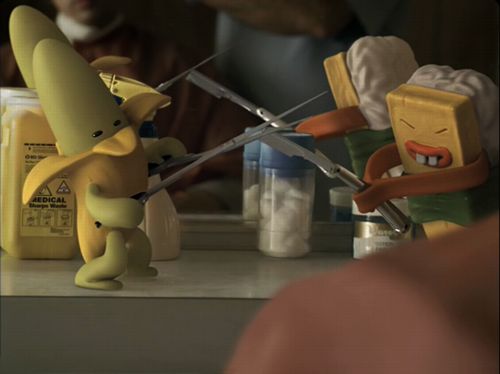 Wrigley's Extra commercial
Dir. Jonathan Baker
Agency: DDB Sydney [atwinthing.com via notcot.org]