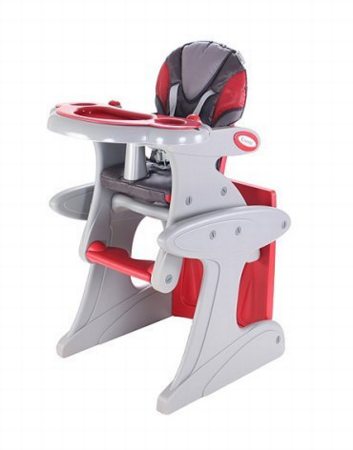 This turned up during my toxic car seat search for Combi Mango the other day, though the Mango color is apparently discontinued. It's a wild-looking high chair that comes apart and transforms into a play table and chair combo, complete with pencil cups.
The Combi Transition is made from smoke-lacquered fiberglass and upholstered in Connolly patent leath-- haha, just kidding, it's all plastic, enough to start an oil crisis, in fact. On the bright side, early user reviews said it's very wipeable.
Has anyone put a Transition through the paces? Which is it, Optimus Prime or Magnatron? [1] A baby-technological miracle, or the kind of 2-in-1 gimmick that does nothing well?
Combi Transition High Chair/Kids Table, $119 [amazon]
[1] Or Megatron. Yow. Not a trick question, but a deliriously embarassing typo. thanks to Gromit and daylight for revealing it.
update: in the comments, Birgit points to the standard-issue European high chair, which is called a Kombi, so you know, totally different. I sense a plot by Magnatron.