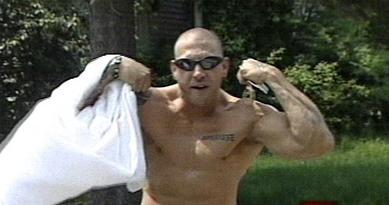 The 4-plex at the beach this weekend was showing Spiderman 3, Pirates 3, Shrek 3, and something else I forget, and I'm thinking, how can a summer movie season filled with repetitive, mindless, hypercommercialized, in-your-face sequels ever be entertaining?
Derek Lindsay of Taunton, Mass, if I didn't think you'd kick my ass for trying, I'd kiss you right now.
Mr. Lindsay is the star of his own summer sequel, you see, his 129th and 130th adult arraignments [at 34, that averages to 8/year. Busy!] premiered last Thursday in Taunton District Court. Seems Sunday before last, Lindsay had taken his kid to one of the local McDonald's, where Ronald McDonald and Shrek were holding balloon-animal court. Lindsay was heard urging his kid to push some other kids out of the way. When confronted by the dad of one of the pushed kids, Lindsay threatened to kick the guy's ass.
When some of Taunton's finest rolled up on a 911 tip, Lindy put up his dukes and threatened to kick their asses, too.
He was arrested for the embarrassingly minor crimes of disorderly conduct and disturbing the peace. So wait, he talked trash, but didn't land a punch on either the other dad OR the cops? What kind of example does that set for the kid? Next thing you know, they'll be calling his fight a "tiff." Can't wait to see how he explains that one.
D'oh: McDonald's tiff lands dad in court [tauntongazette.com via obscurestore, thanks dt reader ponch]
McDonald's tirade lands Taunton dad in court [image via whdh.com]