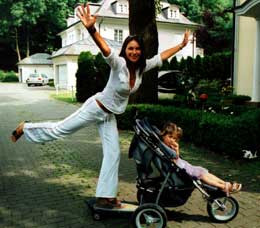 A bit of friendly, unsolicited advice to the makers of the Mama Board:
If you're gonna go and do something as awesome as engineering and manufacturing and marketing a skateboard that can latch onto a stroller, DON'T give it a name that all but guarantees the 99.5% of skater parents who are men will NEVER use it.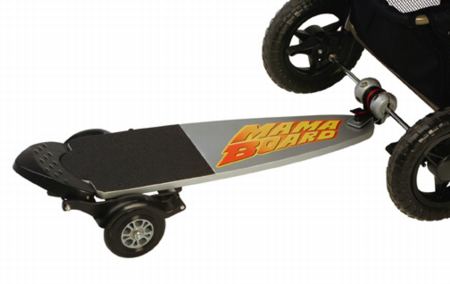 So since your product is apparently not for dads, maybe we'll just make one our own damn selves: Papa Board and Dad Board both sound a little trademark-confusing. How about a name that's got nothing to do with the gender of the skater? Like The Stroller Stick.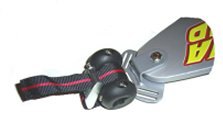 The MamaBoard screws onto a stroller using a universal bracket, which connects to a lockdown strap, which is attached to the front of the deck. Why not use an actual skate deck, and jigsaw or Dremel out a slot in the nose for the strap, maybe reinforce it with an oval grommet?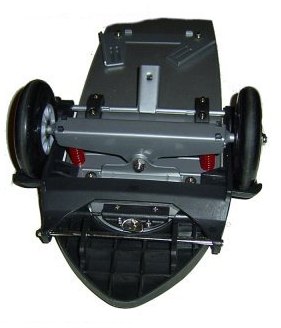 The Mama Board's truck is so over-engineered, it must come from Germany. It has wheel covers, and the kicktail is actually a brake. Everything looks less evolved than even the most run-of-the-mill cast skateboard truck and wheel setup. With an actual truck, you wouldn't need wheel covers. With an actual skater, you wouldn't need a brake. [Though it might be nice. Any ideas?]
Making a Stroller Stick new, you might not be able to beat the Mama Board's EUR55 price [not including shipping]. But if you have an old deck lying around, all you'd need is the nose hardware and some Dremel time, and you're there.
Mama Board skateboard-stroller mashup, EUR 55 [mamaboard.de via dt reader becster]
Related: