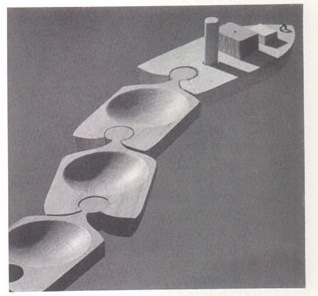 In 1964, Lieselotte Pee, the noted play and pedagogy expert and member of the Arbeitsausschusses Gutes Spielzeug [Good Toys Working Commitee], wrote an extensive article for Form Magazine about the state of toys and design. I have no idea what it says, and it's too annoying to cut and paste umlaut letters into Babelfish. I DO know that the pictures rock, though.
That Kurt Naef modular dollhouse featured last week came from this article. And there's a Naef peg people school bus and Naef blocks, too.
Naef's a known quantity, though. Who are these other folks? Like F. Linau, Hamburg, who made this remarkably simple train? Those scooped out shapes are awesome, but I can't find any mention of Herr [or Frau, I guess] Linau anywhere.
It didn't have wheels, so I thought it was a string of boats, but reading the caption, it's so obviously a Sandspiel Schleppzugg: a sand train. For schlepping around a sandbox, duh.
"Kinder Spielen," by Lieselotte Pee, Form Archive, Issue 28, 1964 [form.de]