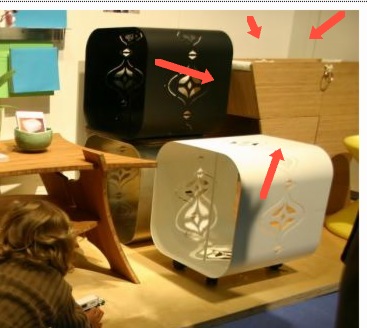 For most folks, a high-priced, high-design, purpose-built bassinet with a useful life of a few months just doesn't make sense. If you're gonna drop a few hundred dollars or more on a sleek bassinet, it had better keep earning the floorspace it takes up by transforming into something else.
[Not that I've done it, of course, but my favorite bassinet repurposing would be to turn a plexiglass and steel hospital bassinet into a sweet party cart; just fill the cradle with chilled drinks--Riunite on ice, ooh, that's nice.]
Well, that plyboo-looking cradle dealio in the IDSA@ICFF booth I wondered about in NotCot's photo gallery turns out to be the YiAhn Bassinet, a rather remarkable, modular design by Chul Min Kang with more sequels than Beethoven. It transforms into a bookcase and a toybox, and/or a play table and chairs. And then it turns back into a bassinet "for a second baby."
Clearly, they're targeting the Korean grandmother market, too. Brilliant.
Kang's on a kid-design roll; his sweet Min Chair, a Pringly, multi-use rocking chair/stool/ride-on toy, won an Idea Award last year from the IDSA and Businessweek. This guy has "living in a NY apartment with a kid" written all over him.
YiAhn Bassinet [yiahn.com via swissmiss, who got the scoop]
MIN.CHAIR by Chul Min Kang [businessweek.com]
Previously: That stainless steel/plexiglass bassinet from the hospital
Ooba Bassinet/Playtable/Storage box