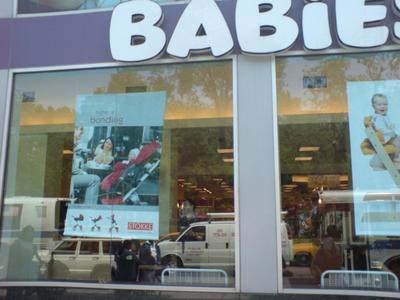 Look who I saw in the window of the Union Square flagship of Babies R Us this morning? It's Norway's favorite stroller for keeping your kid up above the dirty streets and exhaust pipes and closer to you: the Stokke Xplory.
And sure enough, inside was a BRU employee setting up a Stokke display, front and center. It looks like they're only going to be carrying the red and blue colors--and red apparently hadn't come in yet. Are these showing up in a BRU near you? Or just near me--and near Buy Buy Baby?
Never mind a high-end stroller that breaks as many molds as the Xplory does; a high-end anything is definitely uncharted territory for BRU; it'll be intersesting to see if they can lure more upscale shoppers in--or if they can convince their existing customers to shell out.
Or maybe having an $800 rig in the store will help BRU upsell $120 stroller folks by making the $300 strollers suddenly look cheap. While I was there sneaking photos, I watched a black couple in their early 20's--she wasn't showing at all yet--getting the lay of the stroller land. The first words out of the baby daddy's mouth: "HOW MUCH did that say it cost??" Baby mama, who didn't see the price: "But look, it's a high chair, too; it's everything!"