I've placed information vital to the survival of the memory of this RD2 unit into this blog so fathers will know how to retrieve it. You must see this stroller delivered and realize it's an older one. This was Raleigh's most desperate hour. Helped by Ogle Noor designers, it was their only hope. To expand into the stroller market, that is. [1]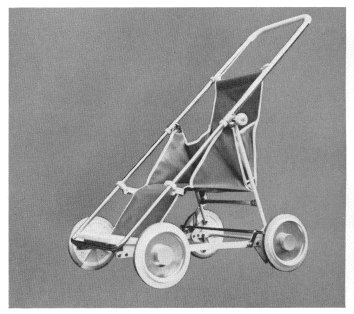 Raleigh had long dominated the bicycle industry, and had launched cars and mopeds, with limited success. Their iconic 70's kid's bicycle, the Raleigh Chopper, was still a couple of years away, and so the Raleigh Dreamline series of prams and pushchairs presented something of a risk.
The RD2 had a pretty sleek line to it, made of tubular steel with small, solid wheels and a no-nonsense fabric seat. When Design journal featured the Dreamline strollers in 1969, they criticized the lack of underseat storage, but the RD2's innovative, telescoping folding system was well-received. From the photo, it looks like it collapses down like a Graco Quattro Tour or something.
Flipping through Ogle Noor's portfolio, I have to say, the RD2 is a standout. But to say it's better than their most famous design, the Popemobile, isn't really much of a compliment.
For an article and more pictures, check out the online archives of Design journal, 1969 issue [ahds.ac.uk]
[1] yes, I know, I am a huge dork.