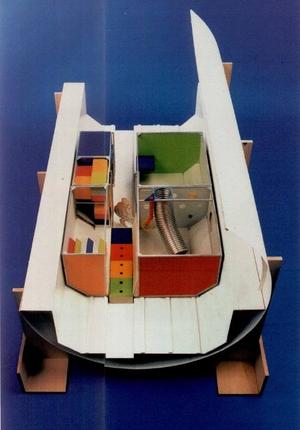 Because it can be hard for everyone--kids, parents, other passengers, and flight personnel--when kids get antsy on a long plane ride, why not create a special child-care section separate from the main passenger cabin?
Spaces for play, rest, quiet activity, and parent-child time could be created in the under-utilized lower level of the plane's fuselage! If the rooms were constructed using modular containerized components, their size and the age group they cater for can be decided before take-off to meet the wishes of children on the flight!
Within just eleven years, by catering to the needs of the smallest and least profitable passengers, airlines could transform flying with kids into a fun, relaxing, and stress-free permacation! Instead of flying to somewhere, families will just take holidays on planes, and kids on the ground will eagerly count down the minutes until they can get back on the funplane!
Or they could get rid of child fares, ban juiceboxes, shoehorn you into a seat with so little legroom even your 24-inch shortie feels cramped, charge you five bucks for a headset to watch a Sandra Bullock movie, and throw a pretzel at your head and call it lunch.
I guess in 1996, it still looked like it could really go either way.
The Flying Children's Den, by Juliane Traummer, Form Magazine Vol. 156, 1996 [form.de]